The Gastein Cure
The Gastein cure is based on the three pillars of thermal water, vapour bath and the healing cave and is additionally positively supported by the alpine altitude of Gastein. The radon inert gas is used in the various cure applications and unfurls its beneficial effect. Up to 90 percent of all patients experience lasting alleviation of their suffering in the locomotor system sphere, the respiratory tract or the skin.
---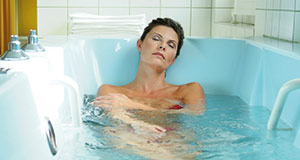 Gastein Thermal-Radon-Bath
The radon thermal bath is the most important and basic spa therapy in Gastein (also available at our house). The special baths are filled with about 480 litres of thermal water. The bath temperature is 36 to 39 degrees Celsius, duration of the bath is 15-22 minutes.
Overheating of the body takes place in the thermal water and thus stimulates the metabolism process. The radon released in the thermal water is taken into the body via the skin and the respiratory tract and releases the body's own pain-killing substances.


---
Gastein Vapour Bath

A speciality of Bad Gastein is the small radon thermal-vapour bath in the town centre. The first vapour bath was constructed in 1794 next to the Straubingerhaus. In 1827 the vapour bath was rebuilt above the main spring.
The thermal-water vapour is led directly via the Quelle IX (Elisabeth Spring) cave in a shaft system to the box baths. The cure patient sits for about 20 minutes in the spring vapour. The therapeutic principle is a very intensive intake of radon, which is possible without burdening circulation and without the hydrostatic pressure of a full bath. The vapour bath differs from the healing-cave therapy due to a much milder overheating of the body.


---
Gastein Heilstollen
The healing climate of the Gastein Heilstollen galleries is unique worldwide.
Due to their high success rate, the healing galleries are considered the most effective form of therapy and spa treatment in Gastein valley. The exceptional effect is attributed to the naturally occurring combination of the following three healing factors or active agents:
Natural radon content of 44 kBq/m³ in the Heilstollen air (on average)
Warmth with an air temperature of 37.0 to 41.5° Celsius
Relative humidity of 70 to almost 100 %
The aim of the healing-cave cure in the radon galleries is the activation of your body's own natural powers of self healing.


More information: Gasteiner Heilstollen.